Practical tips & resources for freelance translators
Proven resources to help freelance translators prosper in business: how-to tips, checklists, templates , infographics and guides.
Quick find:
A. Tips on marketing your translator services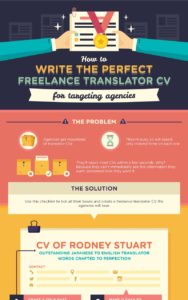 How to write the perfect freelance translator CV for targeting agencies: Infographic

The 10 essentials your CV needs to appeal to agencies.
View / download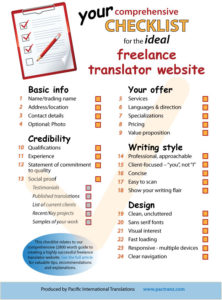 Creating an ideal freelance translator website: Checklist
How to build credibility through the right content, design and style.
View / download

How to get more freelance translation work from agencies: Summary pdf
13 superb strategies/tips with specific how-to steps.
View / download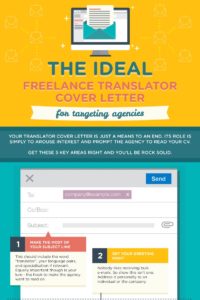 Crafting the ideal translator cover letter: Infographic
Keeping it simple - the 5 key things you need to get right.
View / download

What translators have said:
"I picked up loads of really useful hints"
"You manage to pack an incredible amount of useful, pragmatic information into them"
"All points are very useful indeed. Everyone will have something to take away from it"
B. Financial/money tips for translators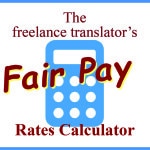 Setting your translation rates
A "fair pay" calculator and guide to show you how much you need to charge.
Go to the calculator
3 superb translation quote templates, designed by translators, for translators.
Go to the templates
How to get more of your quotes accepted - the 12 essential elements every quote needs.
View / download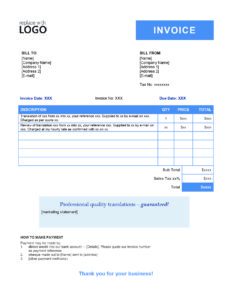 Translation invoice templates
3 excellent templates, designed specifically for translators.
Go to the templates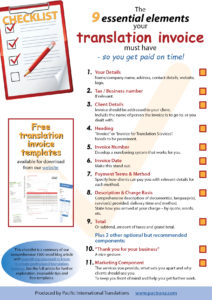 Translation invoices: checklist
The crucial content that will help get your invoice paid on time.
View / download
C. Tips for key business processes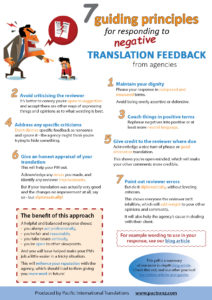 How to handle negative translation feedback: Summary pdf
7 guiding principles for a professional response that will enhance your reputation.
View / download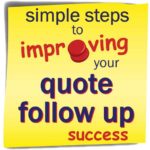 Smart and effective quote follow up: Guide
How to be more successful with your quote follow up. With sample e-mail wording.
View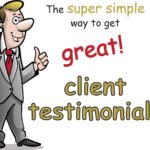 How to get great client testimonials: Guide
The simple method we use and how to adopt it for yourself.
View

The blog articles/guides linked to these resources:
How to write the perfect translator CV
Comprehensive 10 point guide, the do's and don'ts, hot tips, other links. Video
How to create the ideal freelance translator website
Guide and checklist, key tips, mistakes to avoid. Video
13 ways to more freelance translation jobs from agencies
Unique, simple and uber-practical strategies you can implement today.
How to write an effective cover letter for your CV
The 5 requisites for a successful e-mail cover letter. Video
The secrets to crafting successful translation quotes
What to include and how to market your expertise. Video
How to create a translation invoice that will get paid on time
The essential content, proven wording, savvy tips born from experience. Video
Negative translation feedback – what an opportunity!
How to not only maintain your reputation, but actually enhance your standing with the agency.
The freelance translator's Fair Pay rates and income calculator
A simple, flexible tool for setting your rates, forecasting your income, and more.
Simple steps to improving your quote follow up success
The big rewards to be gained from quote follow up, and how to do it successfully.
The super simple way to get great client testimonials
A simple but highly effective method you can easily adopt for your business.
You might also like these articles ...
The translation skills a professional translator needs
The 15 key skills and qualities needed for translation at a professional level. Video
The 5 step language translation process
The process the professionals use - and why each step is so important. Video
How to assess translation quality
Ever need to review someone else's translation? This articles tells you exactly how to go about it - and what to look for. Video
The crazy list of 51 types of translation
Would you believe there are (at least) 51 commonly referred to types, methods and techniques of translation? Video
The 4 translation methods and when to use them
The pros and cons of machine translation (MT), MT + human editing, human translation, human translation + review. Video
Multilingual desktop publishing - the ultimate guide
Everything clients, project managers and designers need to know to produce great multilingual materials.Video
Back to top
     |     
Go to PacTranz blog
     |     
PacTranz home page